25 January 2015
Nourished Roots Photo Project – Week 3
A big thank you from all of us again for your kind word on our photo project again this week.
We had very mild weather, so we found a lot to do outside each day. From goats to chickens to birds at the feeder, this was our week.
Day 21
Friends and family have been known to have a nap under the big dogwood on a warm summer day.
Day 20

Our farm dog Rex has had a very cautious introduction to the goats. Their time together can be best summarized as glaring at each other through the fence.
Today Peach decided to go for a closer look while the rest of the herd decided to move on.
Day 19

Another mild day so the chickens came outside for a visit.
Day 18

Some days it's really nice out so you move bales for the goats to climb.
Our two goats that are bred are growing quickly. It won't be long before their kids are on the way.
Day 17

Hauling wood is always worth the effort. There is nothing quite like our home heated by the wood stove all winter long.
Day 16

Every day on the homestead is an opportunity to make a new fort using found items…
Day 15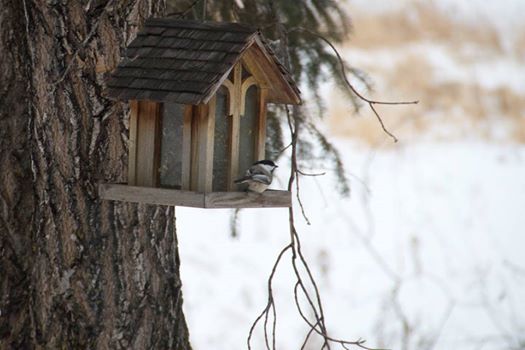 We took time to fill the bird feeders today. There is always something comforting about seeing signs of life all winter long.
Filed under:Nourished Home,&nbspPhoto Project
Author: Trevor Percy