31 December 2013
2013: The year in pictures
Sometimes it feels like you haven't got much done. Then you look back at pictures and realize you've had an amazing year that encompasses the full depth and breadth of the human experience.
Joy and tears.
Progress and setbacks.
Challenges and solutions.
2013 was a year of getting to know this land. The way the rain falls. Then trickles, or flows, across the yard and fields. Where the wind whispers, and where it howls…
We learned about ourselves. As a family, and as individuals.
We learned that we need less than we thought to be happy.
We learned that the sweetest moments almost always happen when we are outside, together. We learned that self-care and self-development must be nurtured with the same care and forethought as the crops you hope to harvest…
The year's highlights did not include the things a materialistic society might define as important…
The moments that made our hearts sing were all about connection to each other, friends and community, and to nature.
They were the times when we watched the kids savouring a freshly-pulled carrot from the garden. Or when they skipped happily through a field of wildflowers. Or when we looked up at a night sky full of blazing stars…
My husband and I agree, those were the times that made our hearts feel like they might burst with love and pride. Those were the times when we thought: "This is it. This is what it's all about."
Here is what some of those moments looked like in 2013….
On a little homestead on the prairies, the year might just start in the snow…
Often outside, in a nearby thicket of trees. Drinking hot chocolate in the woods…
And favourite pastimes might be simple…like leaping across bales of hay with friends in the crisp, wintery air…
Of course, there are plenty of unexpected sights too. Like beloved laying hens who so dislike the snow that they have managed to flap their way to the top of a coop…
This is Mavis.  She brought nourishment- and lessons about life and death on the farm…She was the kids' favourite. And the first of our chickens to die…
Almost from the start, we got sweet on sunsets. From the dining table, or the edge of the wraparound porch, this is what we see…
Brilliant streaks across the prairie sky. It sets our hearts soaring with wonder…
The winter went on forever. Until we just couldn't wait any longer to indulge in spring's pleasures…
And then it came to stay. Spring emerged in her fertile wisdom. We were ALL ready to range freely again…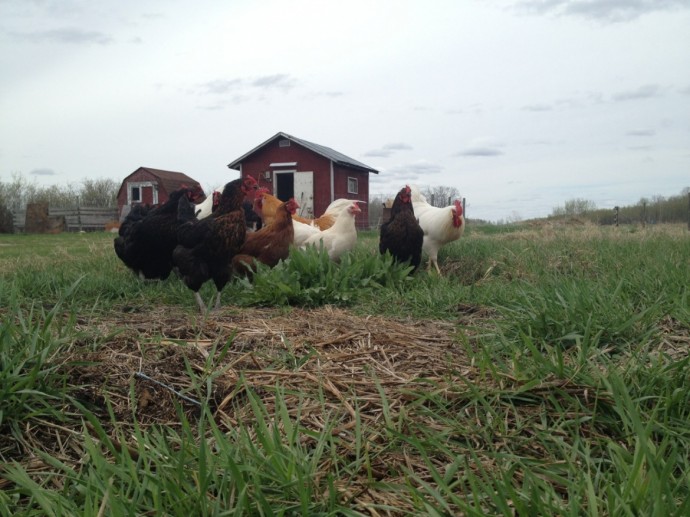 Winter had not been a time of idleness. As we went inward, an idea had germinated and taken root.
The DIY Homesteaders' Festival was all about a desire to give back. It was about cooperation and vision. It was a team effort that culminated on June 1st with more than 300 people flocking to the land we call home- all to re-skill and reconnect.
They learned about everything from raising chickens to beekeeping…
From making soap to spinning fibre…
And of course, they were nourished with delicious, local, food from amazing farmers and artisanal bakeries…
In the days following the festival, the kids celebrated a birthday with some unexpected guests.
Wild mallard ducklings nursed to life by the little missus, who found abandoned eggs scattered throughout the yard.
They kids took to nurturing them like a duck takes to…well, you know how the story goes.
This was their first swim…and the day the conservation officers came to pick them up and take them to their new home at a wildlife rehabilitation centre…
2013 was a summer of learning and building. We hosted a cob oven workshop with the talented folks of Urban Eatin' Gardeners Worker Coop, leading the way.
Playing in the mud, sand and straw – it was a 9-year old's dream…The finishing touches involved adorning the hearth like a beloved mother's full belly. She was glowing, round and jewelled!
I (Adrienne) couldn't help but to keep creating in my own way. Sometimes out of necessity. Like this simple, homemade electrolyte drink that restored cob oven workshop participants toiling in the blazing sun.
We learned just how abundant this land is. With a skilled wildcrafter as our guide, we learned how to identify, harvest and prepare the wild food and medicine that grows here…
It felt so beautiful to see our friend, and wild edible workshop host, Laura Reeves, pass some of those gifts to the next generation. It was a highlight of the summer when she spent an afternoon with our fearless 6 year old who shows a knack for all things herbal.
Here they are, about to leave on a 3 hour trek through field and forest. A time of eating wildberries and inhaling the sweet, cream soda-like scent of milkweed…
And of course, marvelling at butterflies that danced across fields of goldenrod…
The exploration continued throughout the summer. Every day was a reminder that beauty is everywhere, Even hidden among the gravel.
We learned that all the animals like to have fun. And that bale jumping isn't just a winter activity. Or just for kids…
Sometimes we just got plain silly. And had debates about whether to call this:  'Dog tired in the shade'. Or 'Tired dog in shades…'
Then came the gifts of harvest …
…and its lessons. Like the importance of calculating your family's food needs…
And how much zucchini is too much? (Answer: It all depends whether you have enough interesting zucchini recipes…)
The house filled with the scent of herbs drying for winter teas…
The bounty of harvest came from our own land and from that of neighbours. Like the Kerr apples from farmer Betty Kehler's orchard…that make the most undeniably delicious, cider…
Processing harvest was a family affair. Some gadgets were so very much fun. And made things so much easier!
Eventually, the promise of summer blew into the beauty of fall…
We all felt a natural inclination to slow down…
And to learn…A three day goat school inspired us to dream of all things goat. It was clear the kids loved the kids…
And then Mother Nature let us know what was coming….
The first snowfall gave us a hint of what this winter would be like…
And although it's been bitterly cold, we've basked in the warm embrace of celebrating the year with friends and family.
And with the longest night of the year behind us yet again, we'll turn our faces to the sun and to the promise of the year ahead…
Filed under:Blog,&nbspNourished Farm || Tagged under: 2013,&nbspAdrienne Percy,&nbspAurora Farms,&nbspDIY Homesteader festival,&nbsphomesteading,&nbsphomesteading festival,&nbsphomesteading on the prairies,&nbspLaura Reeves,&nbsptraditional recipes,&nbspTrevor percy,&nbspUrban Eatin Gardeners Workers Coop,&nbspyear in review
Author: Adrienne Percy